Wales is swapping the red and green of its flag for yellow – as Geraint Thomas is set to become the first ever Welshman to win the Tour de France.
The Cardiff cyclist just needs to cross the finish line in Paris on Sunday to be named the race champion.
Former Wales captain Sam Warburton – who went to the same school as Thomas – tweeted: "Absolutely awesome."
Parts of Wales – including Cardiff city hall – will be lit yellow later to mark the remarkable achievement.
A stunning performance during the time trial on the penultimate stage on Saturday meant Thomas goes into Paris holding onto the yellow jersey, and nearly two minutes in front of nearest rival Tom Domoulin.
The cycling tour's convention dictates that the wearer of the yellow jersey is never attacked on the final day – it is a procession for the tour winner.
His friend and former Whitchurch High School schoolmate Sam Warburton added it "couldn't happen to a nicer guy".
"It's insane. Tour de France! I can't believe it," said an emotional Thomas on after Saturday's 31km time trial.
"I'm really trying not to cry, it's unbelievable. I tried not to think about it, just take it day by day. I've won the Tour de France man, I don't know what to say.
"The last time I cried was when I got married and I don't know what's happened to me."
Thomas will go down as one of the greats of Welsh sport, it has been claimed.
"He is an inspirational role model for future generations and is on the brink of cementing his status as one of the greatest Welsh athletes of all time," said Secretary of State for Wales Alun Cairns.
British cycling legend Mark Cavendish, who won 30 stages of the Tour de France, paid tribute to Thomas's loyalty and work ethic.
The First Minister Carwyn Jones described it as a "fantastic achievement".
"Wales will be cheering you on as you head to the finish," he tweeted.
Cardiff Council has announced that City Hall will be illuminated yellow this evening in a nod to the yellow jersey Thomas has worn so often this Tour.
"We are so proud of Geraint's fantastic achievement we've decided to illuminate City Hall in yellow on Saturday and Sunday to mark this landmark victory for Welsh sport," said Cardiff Council leader Cllr Huw Thomas.
"Geraint is a great ambassador for his home-city and an inspiration to young people thinking of taking up a particular sport professionally, or for leisure."
Sir Bradley Wiggins, the first British cyclist to win the Tour, described Thomas as a "truly amazing athlete".
The Cardiff Central MP Jo Stevens added: "Amazing achievement" and "The Diff #Proud".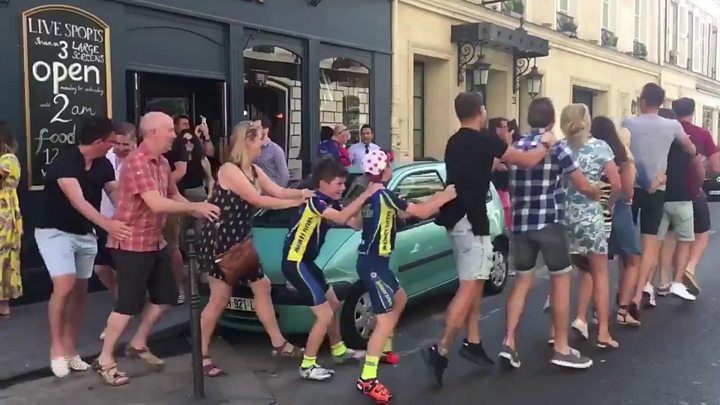 The Welsh Assembly's Presiding Officer Elin Jones tweeted to say the Senedd in Cardiff Bay would also be illuminated yellow.
And it seems Thomas has already started celebrating – with a pack of Welsh Cakes.